On Saturday 25th March, Thames emerged victorious in our annual mob match with South London Harriers by 96 points to 188, scoring 11-a-side. Our victory brought the series back level at 19 wins each.
Richard Ollington was first home in 39:07, with Ellen Weir the first lady home in 41:55.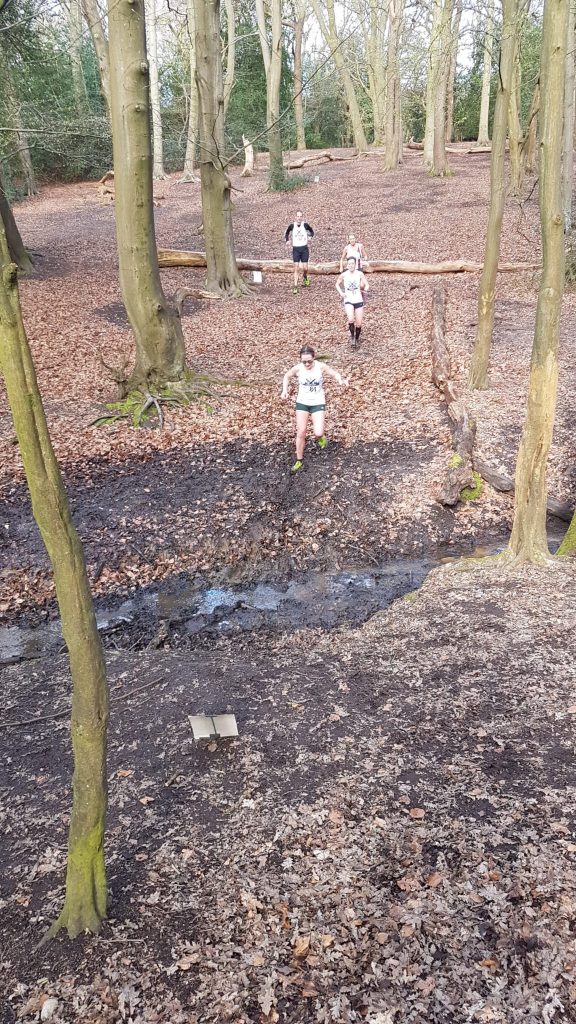 The race also formed Thames' Long Distance Handicap and that was won by Jess Davies.
Full results are below.
| | | | | | |
| --- | --- | --- | --- | --- | --- |
| Place | Bib | Name | Club | Gender | Time |
| 1 | 66 | Richard Ollington | TH&H | M | 39:07 |
| 2 | 74 | Gordon Pearce | TH&H | M | 39:28 |
| 3 | 76 | James Hoad | TH&H | M | 40:30 |
| 4 | 279 | Alex Lyne | SLH | M | 41:13 |
| 5 | 290 | Jono Wood | SLH | M | 41:45 |
| 6 | 92 | Simon Molden | TH&H | M | 41:51 |
| 7 | 85 | Ellen Weir | TH&H | F | 41:55 |
| 8 | 289 | Jack Harrison | SLH | M | 43:05 |
| 9 | 81 | Ifan Lloyd | TH&H | M | 44:04 |
| 10 | 118 | Anisse Ismaili | TH&H | M | 44:53 |
| 11 | 291 | Toby Rowlands | SLH | M | 45:05 |
| 12 | 285 | David Ogden | SLH | M | 45:06 |
| 13 | 121 | Nick Altmann | TH&H | M | 46:16 |
| 14 | 97 | David Symons | TH&H | M | 48:16 |
| 15 | 95 | Tim Low | TH&H | M | 48:45 |
| 16 | 67 | Jess Davies | TH&H | F | 49:00 |
| 17 | 113 | Rebecca Hughes | TH&H | F | 49:21 |
| 18 | 84 | Chloe Beckett | TH&H | F | 49:59 |
| 19 | 282 | Scott Mackenzie | SLH | M | 50:07 |
| 20 | 91 | Vikki Filsell | TH&H | F | 50:09 |
| 21 | 281 | Ruth Hutton | SLH | F | 50:24 |
| 22 | 125 | John Lethbridge | TH&H | M | 51:29 |
| 23 | 288 | Peter Brown | SLH | M | 51:39 |
| 24 | 62 | Al Kennis | TH&H | M | 51:48 |
| 25 | 99 | Andrea Stehlikova | TH&H | F | 52:35 |
| 26 | 278 | John Foss | SLH | M | 53:06 |
| 27 | 98 | Matt Beaney | TH&H | M | 53:55 |
| 28 | 60 | Jerry Watson | TH&H | M | 55:01 |
| 29 | 280 | Caroline Welch | SLH | F | 56:15 |
| 30 | 284 | Anna Jenkinson | SLH | F | 57:13 |
| 31 | 286 | Nick Jarrett | SLH | M | 57:52 |
| 32 | 259 | Matt Saunders | SLH | M | 59:55 |
| 33 | 83 | Mike Farmery | TH&H | M | 60:51 |
| 34 | 109 | Rhodri Davies | TH&H | M | 61:52 |
| 35 | 287 | Alistair Morton | SLH | M | 61:54 |
| 36 | 79 | Andrew Collins | TH&H | M | 63:38 |