The club is fortunate to have members whose talents extend beyond running itself to writing about it.
---
Chloe Beckett
In 2021 the Club's newsletter ran a weekly feature that documented a notable run in the Club's history. Chloe Beckett, with the help other Simon Molden and other members, painstakingly pieced together personal accounts, results tables and photos to curated the Great Runs of the Saltire series. The race write-ups can be found for all to see on ISSUU's website with a pdf download available here.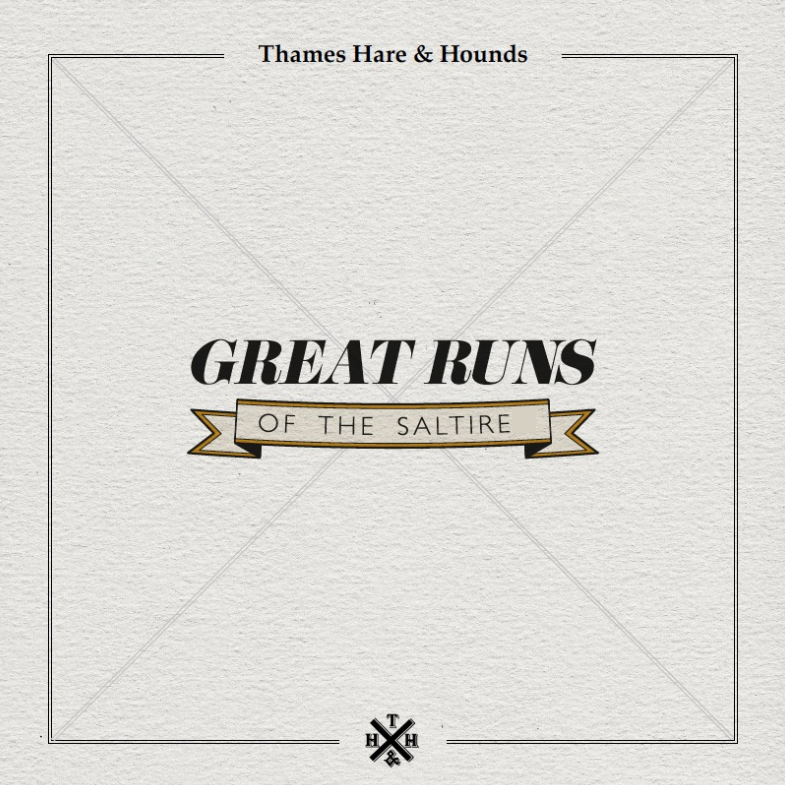 ---
Mara Yamauchi
Marathon Wisdom, An Elite Athlete's Insights on Running and Life is a collection of everything learned from training and competing as an elite athlete. Distilled into 42.195 (the number of kilometres in a marathon) separate insights, the book explores all the elements that go into running a good marathon, from prioritising the basics in training, to delivering your best performance under pressure, and looking after yourself.
Mara's book encourages you to think critically, develop self-awareness and understand what helps you to improve. Many of the insights are relevant and applicable beyond running – to any major challenge you may be taking on. The book can be read from cover to cover or dipped in and out of as each insight is self-standing.
---
Donald McGregor and Tim Johnson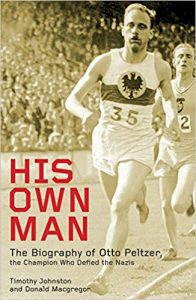 Donald and Tim are both former Olympic marathon competitors and members of Thames.
This is a very well written and compellingly told tale of Otto Peltzer, a fascinating figure from the history of our sport. As well as the story of an amazing athlete, who held the world record for the 800m and 1500m in the 1920s, it's a timely reminder that sport is not an island apart from the wider world and that even the seemingly immortal superstars of international sport are often overtaken by events that make history.
There are footnotes that will appeal to the statistician, and, as you would expect from two authors so associated with Thames, authoritative commentary on the broad sweep of the history of athletics with references from Walter George to the modern era; but most of all it tells the story of an athlete extraordinary in his time, his motivation and approach to running, and how events surrounding him shaped his life and ultimately the limits of his athletic achievement – but how he continued, unbowed, dedicating his life to the sport he loved, right until the very end.
---
John Bryant
John Bryant is a former president and a long standing stalwart of Thames Hare and Hounds. After his distinguished Fleet Street career he has added a sideline as a sports historian and author.
His book on the four-minute mile, 3:59.4, and his ebook Against the Clock, draw on the long history of the challenge before making use of the author's own friendships with the homegrown protagonists. Roger Bannister is a Thames member, as where the the much-missed Chris Chataway and Chris Brasher.
His authorised history of the London Marathon traces the roots of the event, and his biography of Chris Brasher describes the remarkable man who made it possible. 26.2 describes how the classic distance was shaped by the events of the 1908 London Olympic Games.
---
Hugh Shields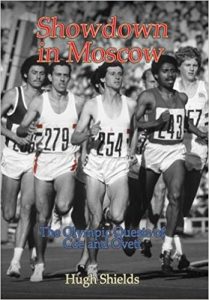 Hugh Shields is a Thames member and familiar face on the Scottish indoor veterans' athletics scene.
This is the story of two of the world's greatest ever milers, Seb Coe and Steve Ovett. Before the Moscow Olympics, Coe and Ovett had barely raced each other. They had, however, established impressive race credentials and traded world records.
So when the Olympics came round, it was showdown time.
There is still no athletics clash which in living memory has come close to the Olympic duels of Coe and Ovett in Moscow. The combination of record-breaking runs and media hype generated huge public interest.
And when, just weeks before the Olympics started, Ovett first broke and then equalled two of Coe's world records, the stage was set for the most titanic of Olympic duels. The Coe-Ovett showdown in Moscow was, and still is, sporting theatre of the highest order.
---
Simon Molden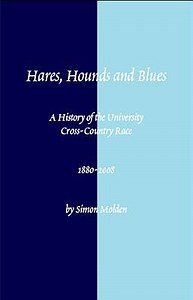 The Oxford and Cambridge Universities' Cross-Country Race is one of the oldest inter-club matches still in existence and dates back to the origins of organised sport in Britain. Hares, Hounds and Blues documents the history of this unique contest from its very humble and somewhat chaotic beginnings in the late-1870s, through the golden eras of the early twentieth century and immediately after the Second World War, to the current day where the event retains a privileged position as one of only 14 Full Blue sports at the universities.
It is far more than just a race between two university clubs; over its 125-year history, it has carried with it many stories of personal and collective achievement. It has acted as a breeding ground for a series world-class athletes and a stage for numerous talented university men and women to reach their own personal Everest. This book tells that story.
The book contains 406 pages, including full results of every Blues' Race since 1880 and summary details of all IInd-Vths races since the first Tortoises-Spartans match in 1937.
Copies are available from Simon Molden and cost as follows:
Hardback £25.00
Paperback £13.50
PDF version on CD £5.00
All prices include postage and packing. If you would like a copy please email Simon at simon@scmolden.co.uk.
---
William Cockerell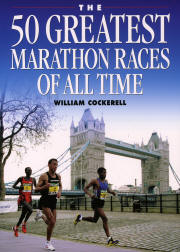 While better known on the local running scene as captain of rivals Belgrave Harriers, Will Cockerell is also a second claim member of Thames.
His recently published book has itself been a marathon in the making, its non-appearance before each London marathon becoming something of a joke. However, now that it has finally hit the shelves it has been worth the wait.
Written in a style that is very much Will's own, the book is a highly informative, entertaining and well researched journey through the history of the classic distance. Drawing on diverse historical records and his own interviews with many major players it is the story not only of the great races but of the characters that shaped them.
The book can be purchased directly from the author at willcockerell@yahoo.co.uk and he is offering a generous 20% discount to Thames members.
---
Chris Moon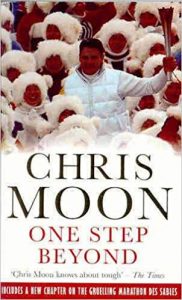 At the start of the 1999 Thames vs Ranelagh Mob Match, as the runners were called to the start, one man was heard to complain that he "hadn't put his leg on yet". No this wasn't a quirky expression handed down through Thames tradition, but the reality for member Chris Moon who lost his lower right leg during a 1995 mine clearing operation in Mozamique.
As well as the mob match he has completed other notable events, such as numerous marathons and the Saharan epic Marathon des Sables.
One Step Beyond is his remarkable story.
---
Meter Magazine
In 2019 Tracksmith Running interviewed Simon Molden and Richard Ollington about the history of the Club
---
Runner's World
Article here and here: Cross Country_ The Original Mud Run _ Runner's World
---
Runner's World 2
Article here and here: World's Oldest Running Club
---
The Real XC
Article here and here: Exploring the Oldest Cross-Country Club in the World