The Greenbelt Relay, simple in concept, in execution complex. A 220 mile lap of London divided into 22 legs over 2 days, teams of 11 runners, each of whom must run a leg per day, 2 legs in total. In addition each team must marshal and provide 2 water stations. Enter 2 teams and mysteriously marshal duty rises to 5 points.
On 19/20 May 22 mighty runners from Thames took on this challenge and emerged victorious, our A team taking the title for the first time in the 25 year running of the race. Our B team where first amongst the Bs and 8th overall. This was no mean feat, Serpentine having taken the title 9 years on the trot. Moreover we did it in some style, winning with a mixed team, smashing the course record over the current distance, the fastest time since 2006, winning 17 of the 22 legs, taking the Ladies and Gents performance of the weekend and winning King Of The Mountains. But behind every triumph is a story, and here is a tale of trial and navigation, sweat and derring-do, comradeship and camaraderie and a broken car.
Leg 1 Hampton Court To Staines
THH A – 2nd
THH B – 23rd
Simon Baines and Annette Chase bore the honour of opening the Thames account for A and B teams. 13 miles along the rolling Thames, the sun shone, birds sang, both runners in fine fettle, what could possibly go wrong? After 6 miles Simon had a strong lead and Annette was going well. The one navigational technicality: don't forget to cross the river at Walton Bridge. Neither did, proving their university education had gone to good use. But there is a time when you realise you may have gone wrong. Generally it's when you run out of land and realise you are on an island rather than tracking the river bank. Returning to the course Simon found himself back in 4th with 15 minutes to go. A heroic effort and Simon hauled himself into 2nd a mere 6 seconds down on Queens Park. Annette, full of good humour ('a wonderful way to start the day' her post race summation) stuck to the task and finished 3rd Lady and 23rd overall.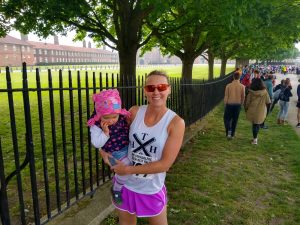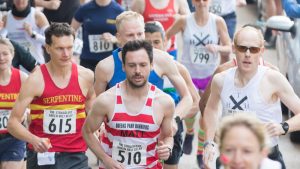 Leg 2 Staines To Boveney
THH A – 4th
THH B – 21st
Another route which broadly tracks the Thames, another route deceptive to the unwary. Katy Hedgethorne and Andrea Stehlikova took over the honours. Katy took what she later described as a 'minor detour' en route but pulled through for 2nd Lady and 14th overall. Andrea found some of the route-finding equally taxing. "I got beaten by a blind man who detoured!" flashed up on the Thames whatsapp feed. A fellow runner offered consolation: "I saw the blind man, he looked very fit!". Andrea needn't have worried, as she finished a sterling 23rd overall and 5th lady.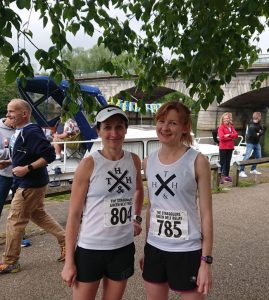 Leg 3 Boveney To Little Marlow
THH A – 3rd
THH B – 17th
In a race which demands a combination of speed, stamina and the ability to navigate, sometimes it takes the wisdom of a veteran to master the challenge. Nick Altmann, taking the baton for the As, neither deviated to left or right but ran straight and true from gun to tape (metaphorically speaking) to take the first stage victory of the day a little over a minute ahead of Serpentine. Nick Sille, making his debut for Thames, standing in for the Bs with less than 4 days' notice and with 100 miles of training in his legs for the week (for he is an ultra runner) was a highly impressive 16th and both teams started to climb the leader board.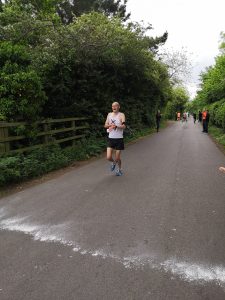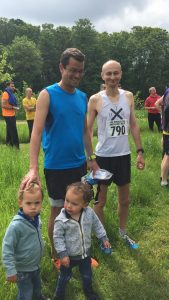 Leg 4 Little Marlow To Great Kingshill
THH A 2nd
THH B 14th
At 11.5 miles and with a course rating of 10 (Bloody Hard), the first of the 'mountain' stages held no fear for Paddy Roddy and Liz Stavreski. At 8 miles both runners had the joy of the first Thames water station to greet them. Paddy had charged into a 2 minute lead which he lengthened by a good 3.5 mins by the close (and 6 mins over Serpentine) to take the stage win and the course record (or he would have done if the course had not been adjusted this year to avoid various obstacles). Liz with minimal training in her legs having recently recovered from injury and with the strain of 16 miles over the Outlying Run from the weekend prior was still a mighty 17th and 3rd Lady.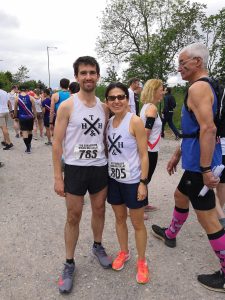 Leg 5 Great Kingshill To Chipperfield
THH A 1st (4m47 lead)
THH B 12th
And so to the longest, toughest leg of the weekend. Stage 5 takes a meandering 13.5 mile route over the Chilterns and is not for the faint-hearted. Cometh the hour, cometh the tough in the form of James Hoad and Ed Catmur. James built towards the Greenbelt by distance training somewhere near the Arctic Circle (he claims Aberdeen) interspersed with the odd reps session aboard a North Sea oil rig….grrrrr. Ed shortened his training to a mere 100 mile race two weeks prior. James destroyed the course in a mere 1hr16mins to take the yellow jersey and put a further 6.5 mins over Serpentine. Ed, in what must have been a sprint distance for him, beat most of the other A teams to finish 9th. After 3 consecutive stage victories Thames finally hit top of the leader board in both the A and B team races.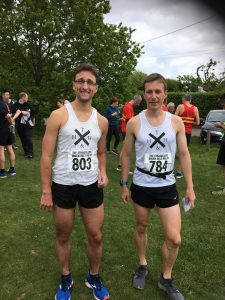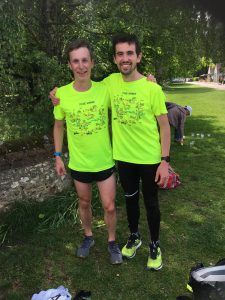 Leg 6 Chipperfield To St Albans
THH A 1st (2m36s lead)
THH B 10th
Leg 6 saw a Greenbelt debutante paired with a Greenbelt veteran in Rebekah Edgar and Ian Higgins. Beks has had a superb season culminating in a fabulous 3hr05m in the London Marathon and a top 50 V35 ranking in the UK. Ian H has 356 entries on Power Of Ten with all but 6 of them consisting of the Wimbledon Park Run. The other 6? Why the Greenbelt of course. Both did themselves mightily proud over leg 6. Beks not only finished first lady but ran a stonking stage record, despite the tricky course navigation, to finish 3rd overall – outstanding. Ian put his Park Run speed fitness to good use to finish first V50 and 16th overall. Bek's run maintained Thames at the top of the leaderboard and Ian shuffled the B team up a further 4 places to hit the top 10. Cue nosebleeds all round.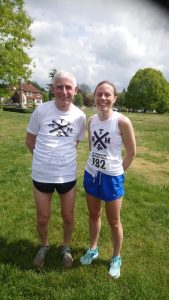 Leg 7 St Albans To Letty Green
THH A 1st (8m49s lead)
THH B 10th
Thames runners were beginning to set a high benchmark. But no nerves from Richard Ollington, who showed he was taking this race seriously for a change. Gone were the London Marathon pretty pink shorts, absent was the 4m37s opening mile. The result, another stage win, another course record and a further 6 mins over Serpentine. A true Captain's performance. Heather Statham ditched the bike and the armbands, Ironman being her normal poison of choice to finish 3rd Lady, 17th overall and maintain Thames' primacy in the B team standings.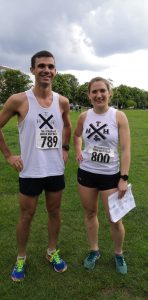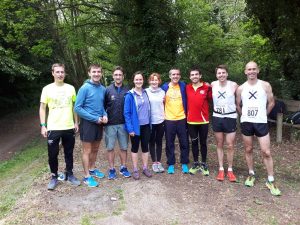 Leg 8 Letty Green To Dobb's Weir
THH A 1st (13m40s lead)
THH B 8th
James McMullan and Jason Savory took the honours for leg 8. James had unfinished business having raced the 2018 Greenbelt carrying heavy injuries. Broken limbs were a distant memory as James attacked the course with alacrity (the opening photo shows his racing start). A beaming James shows the result, a stage win and a new course record, smashing the old mark by 90s. Jason came to the Greenbelt with a vein of good form. A swiftish Boston Marathon (3hrs08m) followed up by an even swifter London (3hrs01m). Jason too attacked the course finishing a sterling 9th and pushing the B team into the top 10.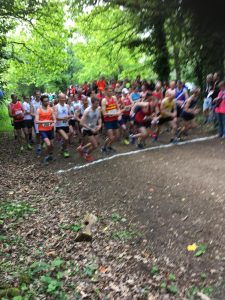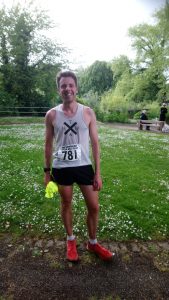 Leg 9 Dobb's Weir To High Beach
THH A 1st (21m22s)
THH B 8th
Leg 9 is deceptive. 7.5 miles of pure flat alongside the Lee river followed by a lung-bursting, thigh destroying 2 miles relentless uphill to Epping Forest. Your author had missed the course record by less than a minute in 2017 and against expectation found himself pinging along with the record in sight. It was at this point the heavens chose to break bringing Olympian drama to the scene. Nevertheless your author, inspired by a strong of Thames stage wins, powered on through to knock 40s off the stage record and take Thames' 7th win of the day. David, returning from a period of altitude training in Colorado (well he claims he was there on business but was looking suspiciously tanned and lean) likewise pounded through the course closing in a superb 6th pushing the Serpentine A runner into 7th.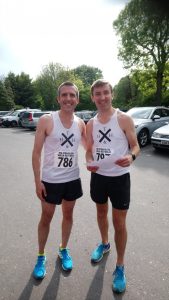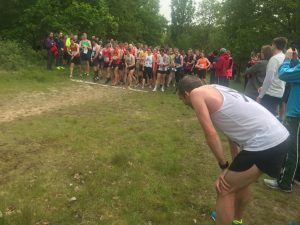 Leg 10 High Beach To Toot Hill
THH A 1st (26m14s lead)
THH B 9th
Gordon Pearce and Jess Davies faced the full downpour as they hit Epping Forest. Thames Whatsapp reported that at the halfway point Gordon, like the current Tory Government, was looking 'strong and stable' (well it actually said strong and solid but it comes to the same thing). Strong and solid turned into a beautiful stage win and your author had the good fortune to personally view Gordon's dash for the finish in glorious isolation, some 3 mins ahead of 2nd, a further 5 mins up on Serpentine and a course record by over 30s, knocking former Thames' runner Jim Alchin's name from the ledger. Jess had already put in a powerful stint of support in providing a water station in leg 4 and ferrying runners back and forth in between. Nevertheless fuelled by homemade cake, which Jess proudly photographed for everyone, Jess kept her energy levels up to finish 18th and 2nd Lady over the leg.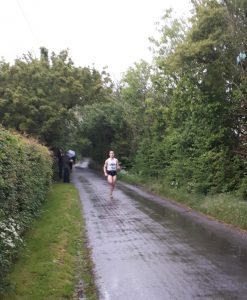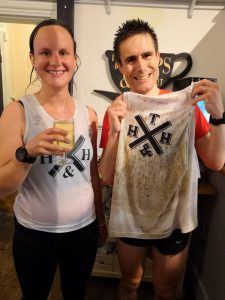 Leg 11 Toot Hill To Blackmore
THH A 1st (25m01s lead)
THH B 9th
And so to the close of day 1. Leg 11 began in a grim downpour and finished in clear skies with a setting sun in the medieval village of Blackmore. The leg finished under the hanging eaves of 16th century cottages and some of the locals opened doors and came to share drinks with the supporters. Stephen Jones and Mike Farmery had the honour of closing the day for the team. Ste had just recovered from an achilles injury and was somewhat feeling his way. Sticking to the Serpentine runner like a limpet for as long as possible, Ste finished an excellent 5th, just over a minute behind Serpentine. Mike, following an afternoon of ferrying runners, capped his day with a steady and elegant leg to finish 26th and 3rd of the V50s.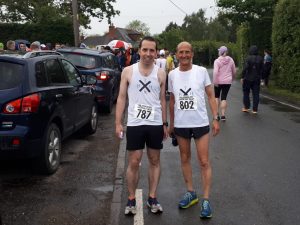 11 Thames runners retired to the glamorous environs of the County Hotel Chelmsford, to bask in the day's glory and enjoy heading the leaderboard with a 25m lead in the A race and over an 1hr lead in the B race. Gordon showed why KPMG pay him the big bucks by plotting a strategy for day 2 – "after hours round the chalk board this evening honing our team strategy, we've settled on the following tactic for tomorrow: DON'T GET LOST". To be fair one or two Thames runners – well one in particular – were furiously revising the routes for the next day.
Leg 12 Blackmore To Thorndon Park
THH A 1st (27m13s lead)
THH B 9th
There is an exquisite torture to running flat out for 10 miles, sleeping badly, then getting up at 6:30am to do it all again. David S was clearly struggling to walk. As for me, everything hurt, but I was keeping up a good appearance. Luckily everyone else on the first leg of the day also seemed to be struggling. Leg 12 is largely road-bound and uninspiring. Your author found himself alone in green fields after a couple of miles and kept it that way to the end, kicking of the day with a stage win and a further 2 mins over Serpentine. David S started steadily. A first mile of nearly 8 mins was followed by a second in around 7m30s. But at 4 miles in David's Achilles gave up complaining, his mile reps dropped rapidly into the 6mins and he scythed through the field to finish a fine 10th. Both of us were pretty spent by the close. Jess, Gordon and team did a fine job providing the first water station and some highly partisan good cheer.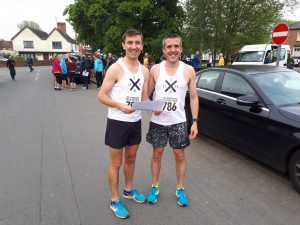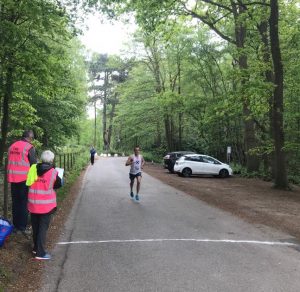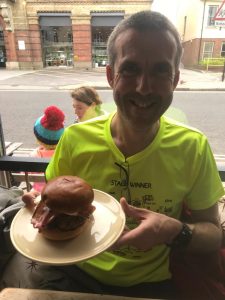 Leg 13 Thorndon Park To Cranham
THH A 1st (18m42s lead)
THH B 9th
Katy Hedgthorne and Liz Stavreski took up the fight for Thames over the day's second leg. Serpentine decided that we could not have everything our own way as their A team runner smashed the course record and took 9 minutes out of our lead. Katy fought gallantly for 12th on the leg and had the honour of winning her first yellow vest of the weekend for her efforts. Liz tackled the course with spirit and held on for 21st and 5th Lady on the leg, a shade outside the V45 record.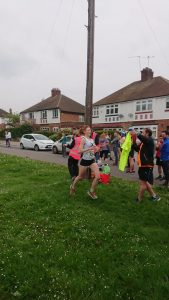 Leg 14 Cranham To Davy Down
THH A 1st (13m29s lead)
THH B 9th
Leg 14 is the last of the northern legs and wends its way through a special part of the Essex countryside. It ends with the memorable direction 'turn left at the sewage refinery as you enter Davy Down'. Serpentine had the bit between their teeth as they fielded Greenbelt veteran Hugh Torry who took his 16th leg win, setting the all-time record for leg wins in the process. Up against it, Stephen Jones battled hard for a game 5th and limiting the gap to 5 mins. Mike F claims to like this leg, indeed he insists on running it every year. Perhaps it's the cooling towers and broken glass on Davy Down which do it for him. Mike closed an excellent weekend in 36th and 4th V50 keeping the team in 9th, a mere 5 mins off 8th.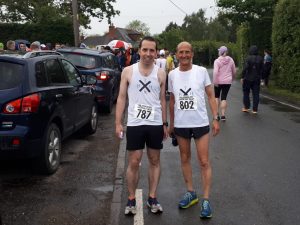 Leg 15 Stone Lodge To Lullingstone Park
THH A 1st (21m03s lead)
THH B 10th
Leg 15 starts in the industrial heartland just south of the Thames at Dartford (see marshal photo below) and ends in a National Trust Park, truly epitomising Greenbelt contrasts. Gordon even spotted a kingfisher during our marshal spot under a graffiti covered bridge. Serpentine had pulled back 12 mins on the overnight lead and looked to be putting up a fight. Cometh the hour, cometh the man. Rich Ollington was not perturbed by the industrial chic, the 2.5 tonnes of gravel which someone had flytipped across a key junction or the  lightly confused course adjustments. Rich powered on through to snatch another course record, another yellow jersey and put 7.5 mins back over our rivals. Heather Statham, despite the exhaustion of all her recent ironman training, ran an outstanding leg for the Bs to finish in 12th and only 1 place off the stage win.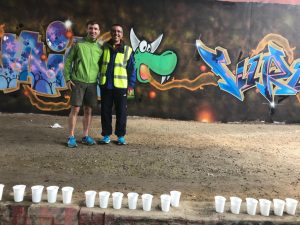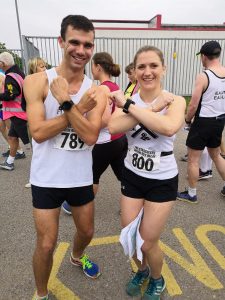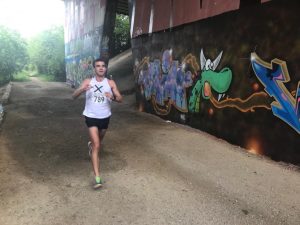 Leg 16 Lullingstone Park To Tatsfield
THH A 1st (36m52s lead)
THH B 9th
Arguably the toughest leg of the race, Lullingstone Park has broken many fine runners. James M, carrying a grim Achilles injury, finished the 2018 leg blinded by sun-cream and hobbling on one leg. No fear for the tough man from Aberdeen. James Hoad destroyed the course and Andy Weir's cherished 2007 record to take the stage win and put almost a whopping 16 mins over Serpentine. Jason Savory put the stamina of his recent back-to-back marathon performances to good use to come through for 11th and to restore the B team back inside the top 10.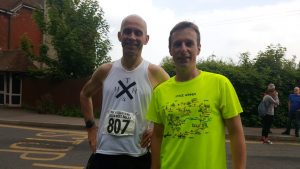 Leg 17 Tatsfield To Merstham
THH A 1st (42m48s lead)
THH B 10th
The photo at the start of leg 17 says it all. Paddy, alert, tense, finger on watch, eyes focused on the timekeeper. Jess, my fellow organiser in crime, giggling away at some quip and clearly far too relaxed for her second run of the weekend. True to the photo, Paddy tore up the course to knock 2 mins of the record and put another 6 minutes over Serpentine. So full of beans was he that he even went for a warm down jog. Jess' relaxed exterior belied her extremely competitive edge as she dashed through for 6th Lady and 30th to keep the B team in the running for a top 10 finish. Alas at this point Jess' faithful car which had been ferrying runners since 10am the previous day suffered a broken starter motor from some enthusiastic revving on the steep Surrey Hills. It then required a push start from fellow Thames runners, showing they're more than just legs and lungs. In fact the car required a push start at every rest point thereafter, much like your author.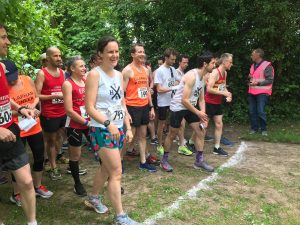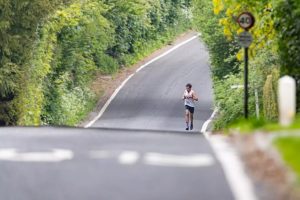 About this time, your author received the following from one of the race organisers: "THH looking really strong this year, especially brilliant considering it's a mixed team. You've never won overall, right? Well all the organisers are rooting for you" Nice to be popular as well as in the lead.
Leg 18 Merstham To Burford Bridge
THH A 1st (49m22s lead)
THH B 8th
The last of the mountain legs with a glorious finish down Box Hill. James M crested the ridge alone and flying like an eagle some 4 mins in the lead and 6.5 mins up on Serpentine. Not to be outdone Ed C put in a gritty performance for 5th showing sterling powers of recovery over the weekend and moving the B team back up to the dizzy heights of 8th. With this stage win Thames secured its first silverware of the weekend having won all 5 mountain stages, with course records on 4 of them, to take the King Of the Mountains Prize.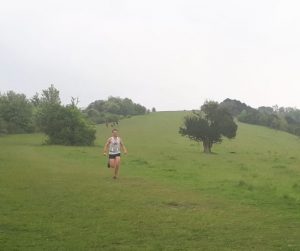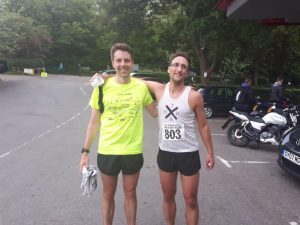 Leg 19 Burford Bridge To West Hangar
THH A 1st (52m13s lead)
THH B 8th
The hill up behind Denbies is a grinding and relentless 1.5 miles slog at the leg outset. Gordon, as you can see, was having none of it and was grinning from ear to ear as he crested the top, jousting with Ranelagh for the lead. Still smiling some 45 mins later Gordon powered into West Hangar alone to take the leg victory and to add another 3 mins to the race lead. Andrea did phenomenally well to hold up over the two days, given recent injuries, to finish 7th Lady and 32nd overall. A cavalcade of Thames runners were there to greet them and to enjoy the final few legs into the finish. Jess' car was still suffering. James M, Mike, James H and Heather made a valiant effort to restart it…..which failed until a passing mechanic out for a cycle stopped and worked some magic.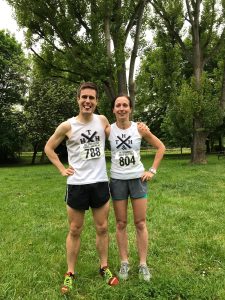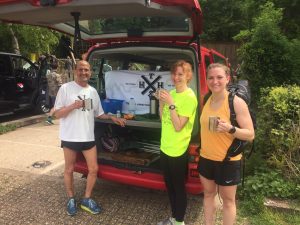 Leg 20 West Hangar To Ripley
THH A 1st (49m51s lead)
THH B 8th
With the Championship within grasp, the gamesmanship started. Nick A tried to inject a little fear into our last leg runner. "Serpie fightback started…I was beaten out of sight…think I kept the loss below an hour though". The reality was far different. Serpies put one of their whippets on the leg who broke the course record, a little too late in the day one thinks. Nick stuck close for an excellent second, keeping the gap to 2 mins and almost breaking the V40 course record in the process. Ian H, rather calmer than last year when he arrived at the startline as the start gun was fired, put his newfound karma to good use to finish 12th and 2nd V50, consolidating the Bs in 8th.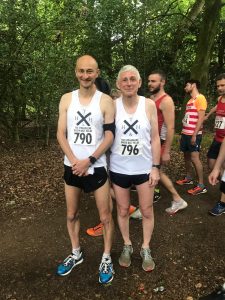 Leg 21 Ripley To Walton Bridge
THH A 1st (48m39s lead)
THH B 8th
Given a certain runner's penchant for waywardness, Thames needed as big a buffer as possible. Beks didn't hold back. Gritting her teeth, Beks tore up the Wey navigation and onto the Thames path to take the stage victory, the course record and amazingly finishing just over a minute behind the Serpies lead male runner. A fine performance, capping an excellent weekend and at the time of writing securing Bek's nomination by the race director for female performance of the weekend. Nick S was not far behind in 12th on the leg, marking a great debut for Thames and ensuring closure of a B team when last minute drop-outs almost scuppered our chances.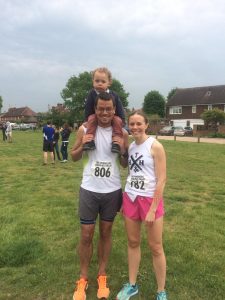 Leg 22 Walton Bridge To Hawker Centre
THH A 1st (52m36s lead)
THH B 8th (and first B team by over an hour)
And so we were down to the last two. Simon B and Annette had the honour of closing for the A and B teams. Both had kicked off our account, both had tracked us throughout the weekend, and both returned to put the icing on the cake. It's amazing what a little rage can do. Simon handled the navigation perfectly and tracked the Thames throughout his leg to destroy the field for the stage victory, putting a further 4 minutes on Serpies, taking the V40 record and within a whisker (11s) of national-level runner Andy Greenleaf's stage record. A well-deserved yellow jersey. Annette maintained her fine form throughout the weekend to finish 4th Lady and 23rd overall.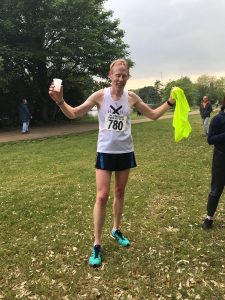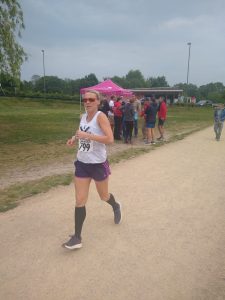 At last to celebrate. Our A team broke the 220 mile course record (the current course has been fixed sinced 2006), running a fabulous 21hr26m41s and averaging a stonking 5m50s per mile, the fastest per mile time since the race began 25 year ago. From a personal perspective it was also highly satisfying to end Serpentine's 9 year run at the top. Our Bs beat most of the other A teams to finish in the top 10, a fine performance given that 52 teams in total closed the race. Your captains could not be more proud. Thanks to everyone who ran, marshalled, watered, ferried, photographed, navigated, whatsapped, baked and pushed cars….."we few, we happy few, we band of runners".