Reigate provided a proper cross country course to start the season, with plenty of mud, steep hills and rough descents. In drizzly conditions, but luckily not the torrential rain forecast, 9 ladies dusted off their spikes to do battle. With several late dropouts due to illness and a number of key team members missing, we were very pleased to come a solid 3rd behind Clapham Chasers and Kent.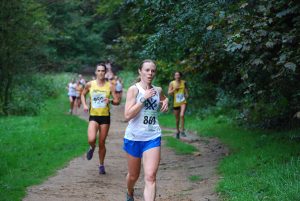 The scoring team was ably led by Bethanie Murray in a fantastic 3rd, her best yet finish in a Surrey League. Beks Edgar and Claire Altmann made the most of their marathon training to come in 16th and 17th. The A team was closed by Chloe Beckett making a brilliant Surrey League debut in 32nd, and Andrea Buchanan in great form in 54th. 
They were ably supported by Jess Davies, Vikki Filsell, Emily Hogg and Anri Cohen. It has certainly set up an exciting fight for the rest of the season, with 43 points between the top 3 teams. We are looking forward to the next fixture on the 9th November.