We had a sunny but very windy day out in Richmond Park, for the 3rd Ladies Surrey League match of the season. Thames had another solid performance, coming in second again to a strong Herne Hill who closed a team in the top 15. On a two lap course, there were a few hills to contend with but the real struggle was the wind whipping across the tops. And apparently blowing us up the hill too but that was of course far less noticeable!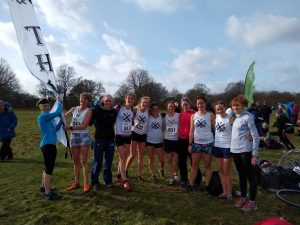 Katy Hedgethorne had a great run coming in 3rd, Natalie Seymour is certainly getting into the cross country groove with a fantastic 5th. Sarah Randles was 23rd, Beks Edgar in 30th closely followed by Claire Altmann in a strong 32nd to make up our scoring team.
Emily Hogg had a brilliant run, coming in 73rd. A tightly packed group behind were using each other to shelter from the wind, and provide motivation! Vikki Filsell was 89th, Jess Davies 90th, Anri Cohen coming back into fitness in 92nd and Denise Barnett was 95th. Anna Garnier made up the squad in 128th.
This sets up an exciting showdown at the final match in Lloyd Park on March 2nd. We are still in the overall lead by 31 points, but it is certainly all to play for. Hopefully the date is in everyone's diaries already; we would love to see lots of you there!