7 Ladies and 7 gents made the journey to the iconic Parliament Hill for the London Champs. The course was particularly tough for this point in the season, a muddy soup from the particularly wet autumn. Excellent preparation for January, when we will all be back for the Southerns. Both teams finished in creditable 9th position, with some strong individual runs. Anna Garnier and Al Gibbons were welcome supporters out on the hills.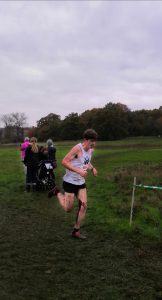 For the
ladies
Liz Stavreski had a good run finishing inside the top 40, next scorer was Andrea Buchanan in 50th. Making up the scoring team were 
Vikki
 Filsell (65th)and Andrea Stehlikova (86th). This was a great run for Andrea S who claims that she never makes a scoring team. Jess Davies, Serena Carter and Anri Cohen were essential back-up, all returning from a little bit of time off after earlier exertions during the season. 309 Ladies completed the race and it was great fun, as always.
The
men
 were brought home by a strong run from James Meiklejohn in 38th, followed closely by new dad Simon Wurr in 40th. The scoring team were made up by Ed Catmur in 57th, James Bartrum in 87th. They were supported by Tom Greenwood and a somewhat unwell captain Rich Ollington.
The Vine provided necessary refreshments afterwards.