For the first time in many years, we fielded a reasonable number of runners for the South of Thames championship team race. The weather and course could be billed as 100% cross country, with the wet weather of the last few months resulting in Lloyd park varying between ankle deep mud and extensive bog. As the drizzle arrived before the start, there were rather unenthusiastic sounds coming from some Thames runners! However we quickly warmed up with the many steep climbs and promise of finishing before it got dark. Several of our more experienced runners pronounced it the hardest cross country they had ever done so we were all pleased to make it round safely.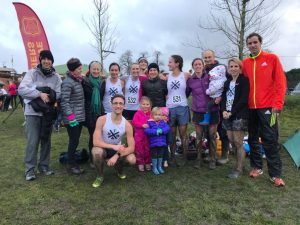 The 12km was longer than usual for the Ladies, which should make the Surrey league seem short come January. We were led home by Charlotte Mason in a fantastic 4th place, followed by Liz. Claire, Andrea, Annette and Jess ran much of the first two laps together with the moral support provided being entirely necessary. It was fantastic to close a Ladies team, which came 3rd overall just pipping Dulwich onto the podium by 1 point.
The men's team was made up of Ed Catmur, David Mason, Chris Rye and Iain Sheridan. All enjoyed the mud and hills, apparently good training for Parliament hill and the Southerns in 2020.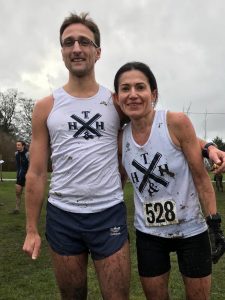 The race was Liz Stavreski's final outing for us before she returns to a sunnier climate in Australia. She has been an enthusiastic stalwart of the scoring team for the last 10 years, and has done much for the club both on and off the course. She will be very much missed by all, although we are pleased for a reason to visit the sun occasionally! Thanks to everyone who came, especially the rather chilly supporting children. We warmed up in the Sandilands club and bar afterwards, with excellent cake.