We will be hosting the first race of the season over the Belgrave Harriers course on Wimbledon Common. Full race details including course map can be found here: https://drive.google.com/file/d/1syEB-QKoEstp9MNebJwNxjRbe0BuNTTf/view
---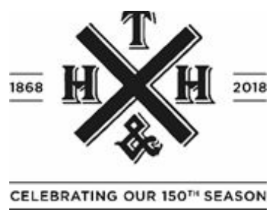 Start Fitness Surrey League Event 1 – Wimbledon Common, 13th October 2018
Hosts: Thames Hare and Hounds (using Belgrave course/facilities)
Venue: Wimbledon Common
Start Times:
Senior Women, Div 1 11am 6.9km
U15/U17 Girls 12pm 4.4km
U13 Girls 12.30pm 2.7km
Senior Women, Div 2 1pm 6.9km
Welcome to the first Surrey League of the season, many thanks to Belgrave Harriers for
providing facilities today. The Race Headquarters will be at Belgrave Hall on Denmark Road,
Wimbledon.
Access ​The race HQ is on Denmark Road, bus 200 from Wimbledon stops on the Ridgway.
The Start/Finish is in front of West Place, Bus 93 from Wimbledon to Putney stops at the war
memorial.
Free parking is available at the Wimbledon Windmill SW19 5NR, a 5-10 minute jog to the
start. Pay and display parking is available on the common south side and surrounding roads.
Toilets ​There are toilets available in Belgrave hall, and additional public facilities at the
Windmill on the common.
Course ​The course is a mixture of stony paths and muddier sections (how muddy depends
on the weather prior to the event). Spike or studs are advised. Wimbledon Common is a
public space so all runners and spectators are asked to respect the rights of other users.
Competitors are responsible for their own safety, before during and after the competition.
First Aid/Hospitals ​Trained first aiders will be in attendance from THH if assistance is
required. Kingston Hospital (KT2 7BE) is the nearest A&E.
Entries and results Please enter online at https://surreyleague.org/ and ensure you have
allocated your all your competing runners' numbers. Results will be available on the website
as soon as possible after the race.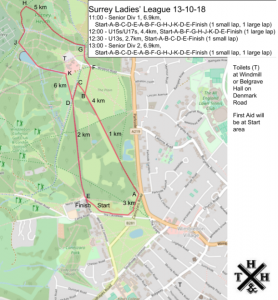 Further Information ​Please contact Jessica Davies jessicadavies140@hotmail.com or Nic
Gould mail@nicgould.co.uk with any queries in advance.
On the day you can contact Mike Farmery 07771650080 with any urgent issues