Thankfully the day before Storm Ciara hit, the Thames Ladies turned out in force for the final race of the 2019-2020 league in Richmond Park. The competition was on, as we started the day 11 points behind Clapham. Emails were sent, phone calls and favours called in to achieve a full strength team of 15 on the start line. There was a nervous energy in the air at the start, quickly got over with a race along the bottom of the valley and up to the top of Queen's ride. Ranelagh's course was rarely flat but fantastic for competition, with clear views up the course and the plentiful support could see the race almost throughout. 
From the beginning it was clear it was THH's day, with domination from the front. We finished with 4 ladies in the top 10, and our fifth scorer in 27th. We were led home by Natalie in 3rd, proving she is definitively back from injury. Katy made the journey from Plymouth worth it in 4th, closely followed by Bethany in 6th. Alice had not run cross country for some time, and was in borrowed spikes but still ran superlatively in 7th. Our first team was close by Chloe in 27th. As we had two 2nd claim runners, the B team included a score of 19 from Ruth Wallace!
This resulted in a match score of 47, and the overall score of 330 points to take the league victory.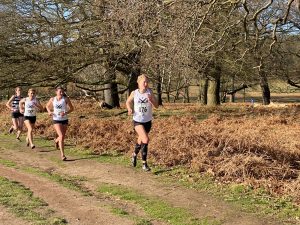 Lauren ran despite being under the weather, to come in 32nd. Our B team was then filled with Emma in 45th Emily in 66th and Andrea B in 72nd. They were supported by Beks, Annette, Jess, Andrea S and Anri running with backing from probably our youngest ever supporter, at a month old! 
A special congratulations to Bethany Murray who was 3rd in the overall individual standings this season, and the highest scoring runner who ran every race. 
Thank you to everyone who came out on the day, it's exciting to continue our streak to 3 wins in a row. We are now equal with SLH with 10 wins a piece in the history books, and look forward to our defence next year! Thanks to the other teams for fantastic competition year on year.