The new season opened with the Surrey Road Relays, in traditional sunshine at Wimbledon Park last weekend. We had a great turn out of 4 ladies and one men's team,enjoying the struggle up the hill as well as the descent back into the park! 
Well done to our Ladies A team, made up of Claire Altmann, Amy Aronson, Victoria Barthlemess and Natalie Seymour who won gold in the senior race (despite being just behind the W35s of SLH). Claire chasing down the SLH runner on the final lap of the track was certainly exciting! Our W35 team also took a fine silver, as did Natalie Seymour who took the 2nd fastest leg of the day with a blistering run.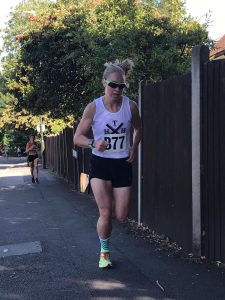 Great runs also from Richard Ollington, Lauren Major and Victoria who were all in the top 10 fastest times. Thanks to Anri for running two legs at the last minute (whilst pregnant!), to make up for an injured runner.
We're looking forward to some more relays at Crystal Palace next weekend, as well as cross country starting soon!