By some amazing coincidence, the 150thanniversary of Thames' inaugural run back in 1868 fell on a regular Wednesday Training night. Last night, 24 members ran around an 8-mile route that was a close as we could get to the course used in 1868, starting and finishing at our original home, The Kings Head in Roehampton.
Although our origins can be traced back 10 months before this event (to the Thames Handicap Steeplechase No. 1 on December 7th 1867), this run was the first for the newly-formed Thames Hare Hounds. Prior to it, the handicap Steeplechases had been run under the auspices of Thames Rowing Club.
For our re-run of this key event in our history, we were lucky with the weather (just like we have been for all the anniversary events). It was mild and dry when 18 runners set off from the Kings Head around 7pm. Others, who didn't fancy the full 8 miles, joined at various appointed locations along the route (see map below).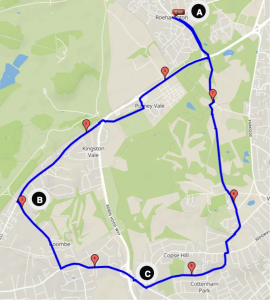 For more information on the history and circumstances of the first run, please read the attached article by Simon Molden, our Club Archivist/Historian.
ThamesH&H-150thBirthdayRun-17Oct18
After the run, runners and supporters enjoyed good food and beer in the Kings Head. Time to start looking forward to our 160th Birthday!