Thames collected an impressive array of medals at the Southern Masters Championships at Horspath (Shotover), Oxford: M40 and M50 team golds, plus individual golds in M40  and M45, individual silver in M50, W60 individual silver and M60 team bronze.
Over 40s and 50s
Shotover.  Early December.  It must be the Southern Old Boys/Girls cross
country champs.  Pre-race intel suggested deep mud and burnt out motorbikes
on the course but actually conditions were benign.  Thames turned out in
some force and came away with loads of metal.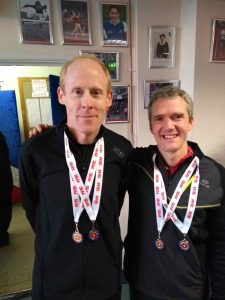 Having previously segregated the Really Old Boys from the Really Quite
Young Old Boys, we were more satisfactorily all in the same race this year. From the gun, Simon Baines showed he meant business in the leading group. Matt Jones lurked just off the back.  Martin Shore started slowly, as usual, consorting briefly with defending M50 champion Andy Weir with Ben Reynolds just behind.   Further back, brushing 4 year old mud from his spikes, it was terrific to see Ian Harkness return to the fray albeit off zero training.
By the end of the first lap, Simon had drifted into a 20m lead but was
running scared of Herne Hill's Simon Coombes in second, a noted fast
finisher.  He never really shook him off but held the gap at 20m for a fine
M45 win.  Martin worked his way up to the Herne Hill man and the two of them traded blows for the second lap with Martin eventually finishing 3rd but, importantly, first M40.  Matt held his 10th position (6th M40) and the three of them narrowly won team gold from Herne Hill who pushed them impressively close.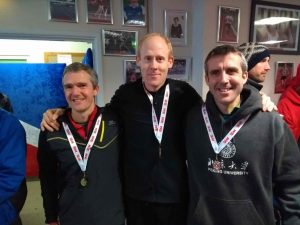 Andy carelessly let another M50 sneak past him but was good for 2nd M50, finishing right behind Matt.  Ben, who has spent the summer fussing about a torn knee meniscus, proved it was time to do some training and held on for 5th M50 (17th).  Ian was not far back given his preparation (93rd and 47th
M50) and, to our great surprise, the M50s took team gold as well by a single point from Colchester.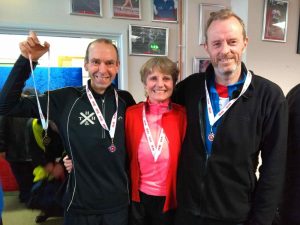 Over 60s
Anna Garnier, who has won individual golds in this event before had to settle for silver in the W60 category, beaten by a lady who had only reached 60 two weeks before the race!
The M60 men's team of Richard Pitt, Andrew Lenon and Mike Farmery surprised themselves by winning a team bronze. Obviously should have stayed for the presentation! Mike is wondering whether this is the first time a President has won a Southern medal whilst in office…
Full results at: https://www.race-results.co.uk/results/2018/seaam.pdf