In the long awaited final fixture of the 2018-2019 Ladies Surrey League, at Lloyd Park on Saturday 2nd March a successful Thames team defended their overall title.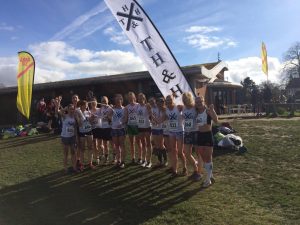 The scoring A team were led by Natalie Seymour in 3rd, her best run of a season. Hot on her heels were Bethanie Murray in 4th and Katy Hedgethorne in 5th. Mara Yamauchi was 7th, in great form from her recent marathon and Beks Edgar raced fantastically to 24th, in the high pressure position of 5th scorer.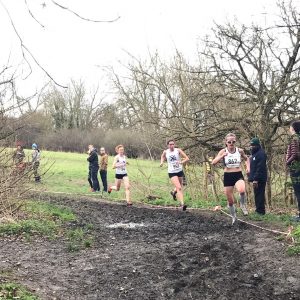 We were also the first B team, proving the depth of the current squad. The B team was made up of Amy Aronson just behind Beks and returning to fitness in 28th, closely followed by Claire Altmann in 31st and Anri Cohen in 36th. Emily Hogg was 55th and Jo Davies made the trip over from Boston for 71st. They were supported by Jess Davies in 76th, Denise Barnett in 81st, Anna Garnier 106th and 3rd Davies sister Rachael Davies in 108th.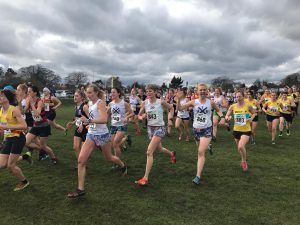 Well deserved cake and champagne were enjoyed by runners and supporters afterwards. A big thanks to everyone who turned out, especially those running despite various niggles. Katy, Claire, Anna, Anri, Emily and Jess have also managed to run every league match of the season. Katy was also a brilliant 2nd in the overall individual league ranking. 
Thank you to Herne Hill and all the other clubs for providing hot competition and a very exciting season of running. We think our final winning margin of 20 points must be one of the closest ever, and it was fantastic to see the top 8 runners all THH/HHH fighting it out.
This victory brings the ladies up to 9 league victories over the years, crucially one up on the men, who remain on 8! This also results in 17 total Thames victories, which puts Thames ahead of AFD on the overall table, for the first time in 30 years. We are already looking forward to next season, and hopefully continued success in the league.