On a gloriously sunny day with fantastic views over London, an excellent turnout of 10 Thames Ladies took to Parliament Hill for the London Championships. In comparison to recent Parliament Hill courses, the ground was dry and hardly a patch of soupy mud was to be found. It was even quite hard in places, with plenty of potential ankle twisting holes littering the paths.
Up at the front of the course, an ever improving Victoria Barthelmess ran absolutely fantastically, coming in 2nd and not far behind the winner. In the same event last year Victoria was 9th, so we look forward to next year! She was closely followed by Katy Hedgethorne coming in 4th. The scoring team was completed by Claire Altmann and Anri Cohen coming in 48th and 79th respectively. This was enough for 5th in the team prize.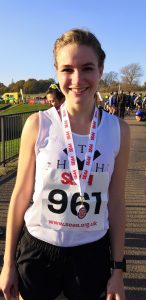 Supporting them was Jess Davies in 86th, Vikki Filsell just behind in 89th, Anna Garnier in 136th and Heather Statham 144th.  Diane Neil Mills had a first outing up the hill, enjoying it to come in 213th. New member Amy Metselaar-Groeneveld ran well to come in 217th.
The race was good practice for the Southerns in January, when the course is sure to be colder and wetter! Plenty of time to dig out those 12mm spikes. Thanks to all the supporters who made the trip up to North London to give us a cheer.