On a cold January at the famous Parliament Hill course, Thames Ladies won the SEAA Southern Cross Country Championship, with some superlative running from all. Returning to Parliament Hill after enjoyable runs at London Champs back in November, the course was still relatively dry and enthusiasm for the mud and hills was high! Despite the drizzle at the start, we stormed up the hill with crowds of supporters helping when the lactate really kicked in.
Our fast ladies at the front showed the benefits of training together, and packed well. Hot competition to make the team is definitely our biggest strength at the moment. The scoring team were led by Katy Hedgethorne in 17th, having battled round with Lauren Major who closely followed in 21st. They were followed by another running pair of Bethanie Murray in 23rd and Natalie Seymour in 25th. Natalie ran so well having only done two cross country races since school!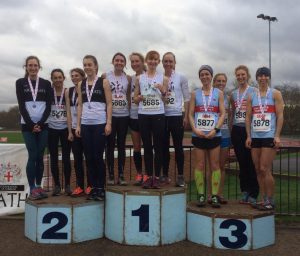 They were well supported by Victoria Barthlemess, coming back into fitness in 48th. Sarah Randles made the most of a lengthy warmup, running from Kingston and still coming in 92nd. Claire Altmann was 129th, followed by Sophie Wood making a trip over from Spain and surviving the cold for 145th. Jess Davies and Vikki Filsell were neighbours again, with Jess in 222nd and Vikki 241st. Anri Cohen was 324th in her first run of the year, Anna Garnier was 337th and Amy Groeneveld came all the way down from Oxford for a good 495th.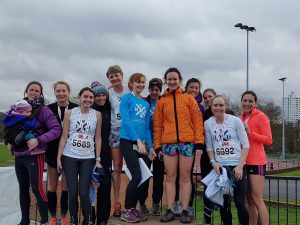 Thames have not won the Ladies team race before, so it is a fantastic achievement for the team, a culmination of hard training and some excellent results across the winter. Thames last won the Men's race back in 2001, many of that team were still racing well yesterday so let's hope we can still be on Parliament Hill in 2037!
Next races in the calendar for the Ladies are the next Surrey League in two weeks and the Nationals up in Leeds on the 23rd. Thanks to the many THH members who came down to cheer us round the course.